23 May 2019
EpSSG Spring Prague MEETING 2019
Prague May 23-24 2019
Location: Prague, Czech Republic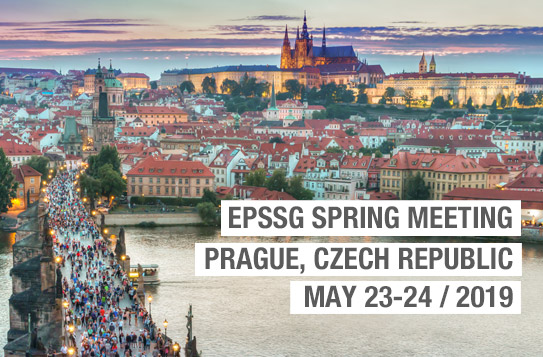 Official EpSSG Spring Meeting 2019 within SIOP Europe Annual Meeting
Our meeting this year will take place within the SIOP Europe Annual Meeting in Prague, Czech Republic.

Programme

Thursday May 23
Our official meeting will be jointly with CWS and EXPeRT group (8.30 - 13.00)
Panels meeting (Immaging, Phase 1/2 and Radiotherapy Committies in the afternoon)

Friday May 24
Registration for EpSSG members (8.00-8.30)
Assembly (EpSSG members ONLY) 8.30 - 10.00
EpSSG Meeting starts at 10.00 till 16.00
EpSSG meeting jointly with the ITCC group (16.30-18.00)

Members of the Group can also participate in other open and joint meetings.

General INFO
This unique Annual Meeting will include novel session formats and interactive workshops between European tumour and clinical trial group members, patient and parent groups, survivors, and relevant healthcare professionals with a common interest in paediatric haemato-oncology.
Accommodation options http://siopeurope.eu/siop-europe-2019/accomodation/
Free children care service http://siopeurope.eu/2019/01/04/free-childcare-service-during-siop-europe-annual-meeting/


Registration
NOTICE: The registration is totally arranged by local organizers of the SIOPE and is per invitation only, not through this site.
EpSSG members in order with their Annual fee payment are SIOP Europe members, thus have a reduced registration fee rate.

EpSSG members will receive (if not yet) invitation via email (kindly check your spam folder).
If you do not receive your personal invitation by 31-st of January, please contact annualmeeting@siope.eu to request an invitation or nominate a peer or colleague.
Please note that on-site registration in Prague will not be possible and you are therefore encouraged to register in advance. The early-rate registration deadline is
15 February 2019.
Find out more by clicking over MEETING REGISTRATION and SIOP Europe 2019 links:
In order to join the event, please login.
Login
Register Now
If this is the first time you try to join one of our meetings, register now: